BTI Medical Thermography Turn Key Package
Text this number for more information and pricing: (563) 357-6317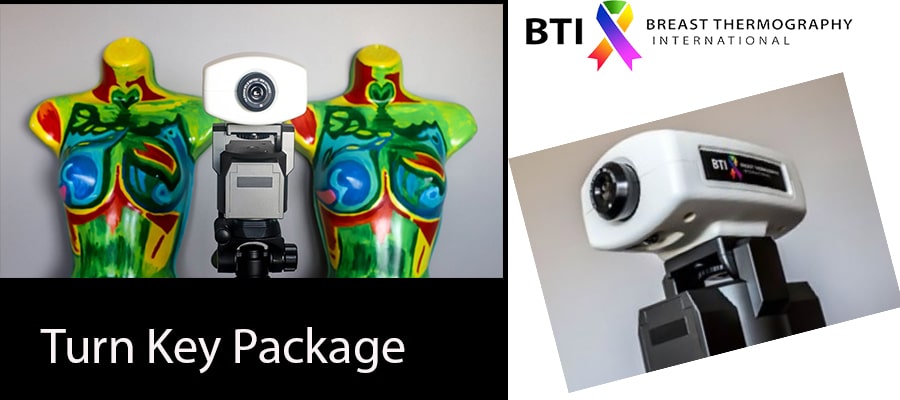 *Actual package will vary.  You may chose and customize your system for travel, fixed setting, or a combination of both.
---
What is Medical Thermography?
Medical thermography, also known as digital thermography, uses infrared sensors to detect infrared radiation emitted from the human body in the wavelengths from 8 to 14 microns. This information is plotted and converted to color and grayscale patterns where the interpreter can assess wellness through plotting skin surface temperature measurements.
Benefits of Medical Thermology
Shows physiology as a function of skin surface temperature measurement

100% Safe

Non-Invasive

No Contact
Medical Thermography is FDA-cleared for the following indications:
breast cancer screening*

thyroid pathology*

cerebrovascular screening*

peripheral vascular disorders*

neuromuscular conditions*
*Adjunctive use only.  To be used with other standard tests.
We provide a turnkey medical thermography package that enables the least amount of frustration in implementing thermography into your business plan. We do not sell equipment but put the package together for you that best fits your needs and for the best seamless integration with an interpretation system.
Training Through PACT
All  training and certification is done through Professional Academy of Clinical Thermology (PACT) and is available online.
It is broken down into two components:
Part 1: Academics of Medical Thermology (Online)
Part 2a:  Practical Training on the system included in your package (Online)
Part 2b:  One on One Online Training
BTI Support:
This is a critical component to success. There is no need to reinvent the wheel we have everything you need.  We will supply you with a starter marketing package and a marketing plan.  We also have a customer support center. All for a low monthly fee.
Here is what you will receive:
Directory/ web listing
Marketing Support
Technical Support
Continuing Education
Portability
You will be able to create a system that is fixed and stays in one location or one that has the portability to fit in a backpack or briefcase. Many of our techs visit multiple doctors office and our system can be designed for this purpose.
BTI Package Includes:
Notebook computer Included. Options: Wall mounted systems, Mobile Van Setups, High Tech Multiple Monitor Setups
640 x 480 Thermal camera.  Includes an ICI 8640 in the pricing.  Upgrades are available.
Marketing: Brochures, Posters, Web Listing, Marketing Training
BTI membership: Mastermind group of successful technicians and doctors. Annual Conventions
Medical Software
Medical System Calibration
Optional Professional Camera Housing
Mounting device: Tripod included.  May opt for wall mounted systems
Non-profit certification through PACT
Access to the highest quality interpretations in the world