Our thermography location in Sequim, Washington is run by Patricia Ryan.  Breast Thermography and Full Body Thermography are performed in a professional setting.  Patricia Ryan is a member of Breast Thermography International, Her certification is through the Professional Academy of Clinical Thermology.  Medical Thermography Lab location in Sequim, WA and is in the same building where she offers a variety of alternative therapies. Sequim is known for the beautiful lavender that grows everywhere and in large fields.  Lavender scent intensifies during the Lavender Festival.  During this season the aroma at the thermography location in Sequim, WA becomes as strong as anywhere else in town.  This kind of aroma can only be experienced and not bottled. Patricia's thermography lab is also near the ocean and near the mountains with lots of hiking opportunity.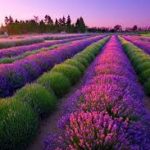 Although Patricia Ryan was not able to participate in many of those activities while she was confined to living life from her power wheelchair, her knowledge and experience with alternative therapies has helped her heal and get out of the chair. She is a survivor, a wealth of information and determined to live life well. Her expertise and passions reveal themselves as she speaks and continues to do presentations at events in the states and internationally. Patricia's services include therapies and valuable information to that help people.
She operates her businesses by appointment only.  When she is not booked with a Medical Thermography appointment, you can find her educating and giving hands on help with nutrition, reflexology, massage, MFT and energy testing, and many more alternative tools and assessments to help live life well.  Clients have found Patricia's teachings (with self-help instructions) plus individualized breast cancer massages, lymph massages, intra-oral massage, Medical Thermography and her other services to be just what they needed.
Patricia believes the body can heal itself and reflects its state of health. Quality of life is important at any age and her practice at Living Health Center offers options and choices of services with goals to effect change in each client's health and life. Your thermography images can help you see and track your body's information. To schedule your Medical Breast or Full Body Thermography appointment, you do not need a prescription and do not need to wait or worry.  Do you have a lump, inflammation or unexplained pain?  You have the right to know and see what your body is trying to tell you.
A health screening with Medical Thermography (a radiation-free adjunctive to anatomical testing) is an FDA cleared painless, noninvasive adjunctive screening procedure which uses a specialize camera to capture images which may detect skin inflammation, excessive heat or cold on your body. Book/Call the thermography location in Sequim, WA.   360-207-5658 (Leave message as she may be helping another person but will get back to you.)