Shanna Rivera and her team travel to many places throughout the United States performing Medical Thermography screenings, including the thermography location in Seattle Washington. Shanna sees patients in an office located in the historical Seattle Smith Tower. She is available for scanning patients at least 4 times a month at this location. Appointments are scheduled in advance to make sure patients adhere to important protocols.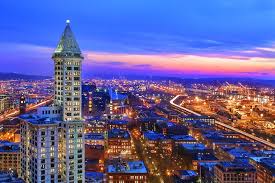 Thermography Location in Seattle
Flow Well was started by Shanna in 2016. Shanna has been a member of Breast Thermography International since 2010. Our Flow Well team is here to help you assess your health and connect you to the best practitioner, professional or modality that best suits your wellness needs. Our patients at Flow Well have many locations to choose from nationwide.  The Thermography Location in Seattle is very convenient for Seattle residents or those traveling to the city. 
There are several good reasons why we should choose Thermography. It is considered an adjunctive screening tool along with anatomical testing. Thermography is 97% sensitive. Thermography doesn't have any radiation that could cause cancer. 
We strongly recommend that you start off with a full body scan. There is a lot of  thermographic information in our body that can not be seen with any other medical test. At Flow Well, and in our thermography location in Seattle, we have performed over 5,000 scans and based on all the results that we see; we strongly encourage  checking your entire body. We offer a health screening that includes the upper body, front and back, excluding the arms and the hands. For men this screening includes the testicles. Some patients only want one region of the body scanned. The most popular single region is the breast scan.
Thermography is completely safe.  it uses infrared imaging to assess the body's physiology  by detecting the heat signatures your body is emitting. Medical thermography can save your life, but it is most used as a preventative tool. See where your heat signatures are take action to potentially avoid cancer, other diseases and injury. 
For more information about our Thermography Location in Seattle and our services, you may visit our website FlowWell.org. Reach out to us! We are happy to answer any questions you may have, and we will schedule an appointment for you when you are  ready.