This Breast Thermography Case Study was performed by a Breast Thermography International technician certified through The Professional Academy of Clinical Thermology
 Date of Study: Jan 2015
Patient Concerns: I have experienced breast changes in both breasts. I have fibrocystic breasts and have noticed less density in my
left breast. My right breast has a fairly good size dense spot across the top of the breast which has caused me pain.
Breast Symptoms: Breast size change right, Hormone replacement therapy
Hormone Therapy: I am on bio-identical hormones through HHC. Biest/Test (60/40) Versa .5/2 MG/ML cream. (7 clicks)
Progesterone (Versa) 10% (100MG/ML) Cream. 8 clicks
Last Mammogram: 7/23/14
Study Results: 2 (3-D scans were performed) results were deemed
normal ••••••••••••
Diagnosed with Cancer: No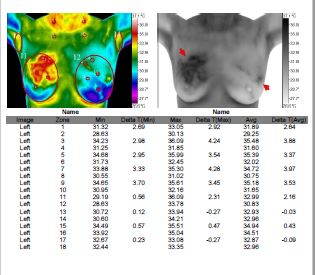 Impression:  breast cancer right breast
Update October 2019: The patient has been cancer free and continues to perform thermography to monitor her condition.
This breast thermography case study shows the importance of screening for breast cancer adjunctively with breast thermography.  In this case mammogram alone would not have been sufficient to detect breast cancer in this patient.  Mammograms are known to be accurate in the area of 83%, which leaves a large area of necessity for overlapping testing.  Thermography is Cleared by the FDA as an adjunctive screening tool.
This breast thermography case study is presented by BTI