Sarah Herlickson and her husband Tim opened their thermography location in Skagit Valley north of Seattle in the beautiful Skagit Valley, home of the well-known, annual Tulip Festival. Their office is in the historical Knutson building in Burlington, Washington, now home of The Apothecary Spa and other health and wellness businesses. Our thermography location in Skagit Valley is conveniently located for easy access from Bellingham, Snohomish County or the San Juan Islands.  Inside the office, you will find a peaceful and private setting where the patient is scanned behind a privacy screen for their comfort during the screening process.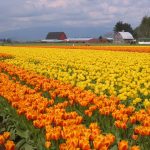 What is Breast Thermography?
Breast Thermography is a completely safe adjunctive screening tool. It does not use radiation or compression to screen for breast cancer.  It uses state of the art technology that assesses heat and detects abnormalities in the breast through infrared technology. Early detection of cancer can greatly improve treatment options and overall outcome. We encourage you to start with a Full Body scan as comparative exams can create a baseline for monitoring your health based on thermal changes. 
Medical Thermography is safe for men, women and children. A Full Body exam can be used to assess: Thyroid, Cerebrovascular Screening, Intestinal Inflammation, Hormone Imbalances, Back Pain, Vein Thrombosis, Nerve Pathology, Circulation and Arthritis. We offer breast thermography screening  only, head and torso or full body. Male screening includes a testicular view and is performed by a male technician at our thermography location in Skagit Valley.
Tim and Sarah are members of Breast Thermography International and Certified technicians through the Professional Academy of Clinical Thermology.  PACT and BTI's mission are to bring a high level of scientific standards to thermographic imaging and their patients.  You can be sure your scans will be done with the utmost care and professionalism. All scans are interpreted by Board Certified Physicians with over 40 years of thermography experience.
Skagit Thermography is here to help with your health and wellness journey.  We continue to grow our referral list to connect you with the best clinic or physician to help aid in your path to wellness.
For information about our thermography location in Skagit Valley and how we can help, you can visit www.btiscan.com